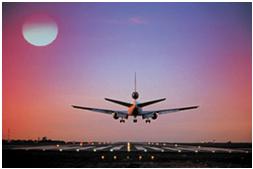 The state's fastest growing commercial airport, the Albert J Ellis Airport, has received a grant from the Federal Aviation Administration to construct a new terminal. The funding is provided by the Airport Improvement Program, which is funded by the Aviation and Airways Trust Fund and generates its revenue from user fees and airline ticket taxes.
The grant for $13.5 million is one the largest grants ever received by Onslow County and is the fourth in a series for the construction of a new first class terminal building and related facilities. With over 56,000 square feet, the new facility will be two stories, with second level boarding with covered jet bridges. These improvements will also provide opportunities for expanded air service as well as new jobs, and new security equipment, which will enhance passenger flow and baggage handling capabilities.
There is also a grant for $450,000 from the N.C. Transportation Department which is part of a multiyear commitment to the development program.
The construction of this 18 month project is scheduled to begin in December.
For more information, contact the Albert J. Ellis Airport at 910-324-1100 or visit flyoaj.com.
Exit Independence Realty is located in Jacksonville North Carolina and services the towns of Jacksonville, Hubert, Richlands, Holly Ridge, Maple Hill, Snead Ferry, Swansboro, and all of Onslow County. Camp Lejeune and our military families are our neighbors and we take care of them, call us with all of your real estate needs 910 347-6886.