April is Autism Awareness Month and we at Exit Independence Realty are LIGHTING IT UP BLUE!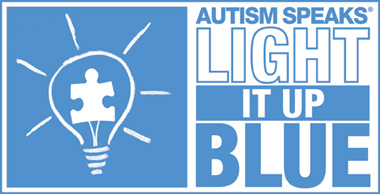 Autism Awareness, I'm sure you have seen it in the news, or it affects you or your family personally. I'm not going to give you the statistics, the latest theory on what causes it or what cures it. What I am going to do is give you a little insight into what it's like to be the parent of a child with autism. First off, please don't ever pity me. I consider my son a blessing from God and he may not be perfect in your eyes, but he is in mine.
My son will be 21 this spring, and to an outsider there are a lot of things he can't do, however I see all of the things that he CAN do. He can do chores like taking out the trash, he can help feed our pets, he can help do his laundry, he understands most everything being said to him, he has the most incredible giggle that can brighten up any bad mood, and a hug from him is priceless.
Most people with autism are hypersensitive and can hear, see, taste, smell and feel things that we tune out. Have you ever been in a store and seen a person with autism having a "meltdown"? Chances are the florescent lights are flickering and it's making them feel ill. It could be the sound of the broken wheels on the cart as it thumps along or maybe the temperature change near the refrigerated section, all things that you and I may not notice.
When my son was in preschool his teacher had a class for us parents. She had us sit on a block, rub one arm with a soft piece of fabric, while rubbing sandpaper with our other hand. Then she turned on one radio to static, and one to music, all while she flipped the lights on and off quickly. Then she said…"This is what your child faces every waking moment… over stimulation".
So today what I would like you to take from this blog is your own awareness of autism. These people are not contagious, they are not freaks and they are not going away.
If someone with this special need comes up to you, don't be afraid, don't pull away, and please don't be mean, but smile, say hello, tell them that they are doing a great job, believe me when I say, you will feel great inside knowing that you were one of the few that took the time to cross that fine line into the life of a person with autism.
For more information on how you can show your support for the autism community go to: Light it up Blue
Exit Independence Realty is located in Jacksonville North Carolina and services the towns of Jacksonville, Hubert, Richlands, Holly Ridge, Maple Hill, Snead Ferry, Swansboro, and all of Onslow County. Camp Lejeune and our military families are our neighbors and we take care of them, call us with all of your real estate needs 910 347-6886.