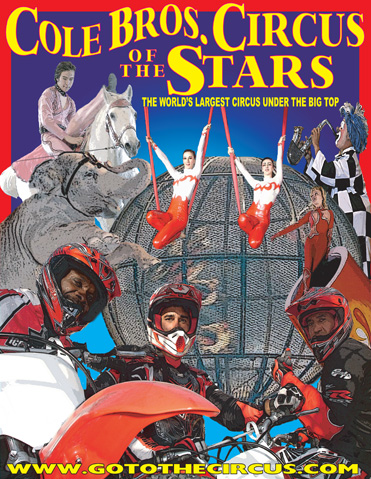 It's that time of year again... the Circus is coming to town! Cole Brothers Circus of the Stars has been coming to Jacksonville NC for years, and this year is sure to be a treat!
The circus tent will be set up at 2500 North Marine Parkway in Jacksonville, near the intersection of Piney Green Road and US 17. The first performance will kick off Thursday, April 5th, at 4:30 pm, followed by a 7:30 pm show. The Friday performances will also be at 4:30 pm and 7:30 pm. Saturday's performances will be at 1:30 pm, 4:30 pm, and 7:30 pm. Sunday will be wrapping up the magic with two showings, one at 1:30 pm and one at 4:30 pm.
This year, you can expect to be treated to tigers, motorcycles, and even a baby elephant! Tickets for adults are $19, $14 for children. Reserved seating is also available for $21 for adults, $17 for children. VIP seats can be purchased for $25 for adults, and $20 for children.
Read the full article on JDNews.com.
For more information, visit gotothecircus.com.
Exit Independence Realty is located in Jacksonville North Carolina and services the towns of Jacksonville, Hubert, Richlands, Holly Ridge, Maple Hill, Snead Ferry, Swansboro, and all of Onslow County. Camp Lejeune and our military families are our neighbors and we take care of them, call us with all of your real estate needs 910 347-6886.