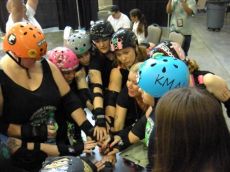 Our very own Alexis Pierson makes the pages of The Jacksonville Daily News!
Well, not just Alexis, but her whole roller derby team The Eastern Carolina Brawling Betties. According to the Jacksonville Daily News, the local roller derby team is launching a safety campaign and handing out safety equipment (helmets, elbow and knee pads) to the youth in Onslow and surrounding counties! They will be giving away one helmet to a lucky contest winner each month. The roller derby team consists of 38 members and they hold open practices and have scheduled competitions. If you would like more information on The Eastern Carolina Brawling Betties, or would like to watch them practice or compete you can go to www.brawlingbetties.com. You can also find out more about the other benefits they participate in.
Alexis Pierson says "I 'm really excited to be part of a team that cares so much about the Jacksonville community. They're a great group of girls!"
When Alexis isn't donning her ECBB costume, she is a dedicated and successful realtor at Exit Independence in Downtown Jacksonville.
EXIT Independence Realty is a full service real estate agency servicing listings and assisting buyers in the Camp Lejeune area, including Jacksonville NC, Richlands NC, Sneads Ferry NC, Swansboro NC, and surrounding Onslow County areas. Put us to work for you by letting our knowledge and commitment do the talking. Call us today at (910) 347-6886!