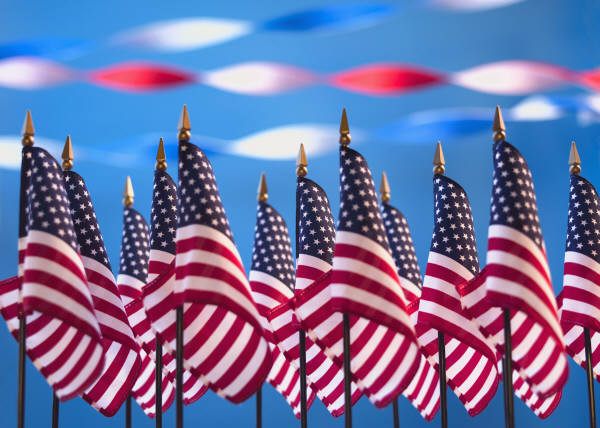 Independence Day also known as the Fourth of July, commemorates the United States' adoption of the Declaration of Independence, declaring independence from Great Britain on July 4, 1776. We celebrate this federal holiday with family picnics, barbecues and most of all fireworks.
My fondest memories of the holiday are from my childhood in southern RI. We would drive to New London CT and park by the Thames Riverfront, turn on the radio and wait for dusk to watch the fireworks choreographed to the music on the radio. I can still hear the sounds, the pops and crackles of the displays and the "ooohs and ahhhhs" of the massive crowd, and it brings a smile to my face.
What do you associate with the Fourth of July? Do you proudly display your American flag? Do you make your famous potato salad and a cheesecake with blueberries and strawberries for a red, white and blue theme? Do you watch a parade? Have you attended one of the local Fourth of July Firework Displays? Do you have a favorite?
This year there are several Fourth of July events to choose from, it's going to be hard to decide which one to attend, since they all look like they are going to be a lot of fun for the whole family.
July 3rdSurf City has a firework display scheduled at Soundside Park and a concert from Mark Roberts & Breeze!
July 4this the 29thannual Freedom Festival at Onslow Pines. It looks like it will be a lot of fun with face painting, rides and games, and performances from Gaylon Pope & Sweetwater, The Flatbed Dixie Band and Jay (Elvis) Barnes!
Camp Lejeune has musical entertainment from Bobbie Allen, The JaneDear Girls, and the 2ndMarine Division Band as well as activities for children!
Holly Ridge has Fireworks, fun activities for kids and music provided by DJ Storm!
Swansboro is planning a fireworks display and also entertainment by Carl Newton & 5th Ave!
So get your blankets and beach chairs ready, load up on the sunscreen and bug spray, and we'll see you at the fireworks!
Exit Independence Realty is located in Jacksonville North Carolina and services the towns of Jacksonville, Hubert, Richlands, Holly Ridge, Maple Hill, Snead Ferry, Swansboro, and all of Onslow County. Camp Lejeune and our military families are our neighbors and we take care of them, call us with all of your real estate needs 910 347-6886.