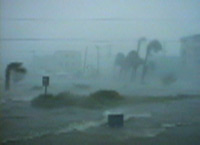 This year it is expected that we will have about 4 hurricanes here on the east coast with 2 of those being a category 3-4 or 5, and 10 named storms. Some may say "Oh that's not too bad", however, it only takes one big hurricane to wipe out a whole city as Katrina did back in 2005.
Meteorologists have been giving hurricanes names since 1950, the names are alphabetical starting with the letter A. With the exception of letters "Q", "U", "X", "Y" and "Z" which do not get used. Originally they only used female names. In 1979 they began rotating them between male and female names. And once a name is used for a deadly and/or devastating hurricane it will never be used again.
I have a friend in the Midwest that said she could never live on the coast because the thought of hurricanes terrify her. I explained to her that the advantage of a hurricane (if there ever can be an advantage) is that we have several days notice so that we can prepare. If you have ever lived on the coast during a hurricane watch, you are all too familiar with the 3 day window you have to stock up on plywood, batteries, generators, bread, milk, and junk food.
As a kid I can remember hurricane days with my brother, we would always do something that would keep us busy all day, like a puzzle or maybe setting up his model train set or making a little village out of Lego's ®.
As an adult I have other things to keep me occupied during the storm, like getting the windows boarded up, and putting away all my lawn furniture and tying down my grill and trash cans. And then keeping the kids calm while trying to keep them in a safe area of the house. I think some of my favorite tricks are to have them build a fort with our mattresses in our long hallway, or giving them glow sticks to play with if the power goes out. I heard of a woman that used a dinner bell to help rescuers locate her as she was trapped in the rubble of what used to be her home. I think that is a fantastic idea as well as making everyone keep a cell phone in their pocket (make sure they are fully charged).
If you are new to the coast and have never been in a hurricane before make sure you are aware of the evacuation routes leading out of your area, the shelters that will be open (some of which are pet friendly), make sure you have a couple of weeks worth of any medication that you take, several gallons of water, flashlights (DO NOT USE CANDLES – especially with young children around) batteries and a battery operated radio, all in case the power goes out for an extended period of time.
Onslow County has a great site to help you prepare for a hurricane whether you decide to sit and brave the storm or evacuate the area.
Go to Disaster Supply Kit for a full list of items to have on hand in the event of any emergency.
Whatever you do to prepare for this hurricane season, please be safe.
Exit Independence Realty is located in Jacksonville North Carolina and services the towns of Jacksonville, Hubert, Richlands, Holly Ridge, Maple Hill, Snead Ferry, Swansboro, and all of Onslow County. Camp Lejeune and our military families are our neighbors and we take care of them, call us with all of your real estate needs 910 347-6886.