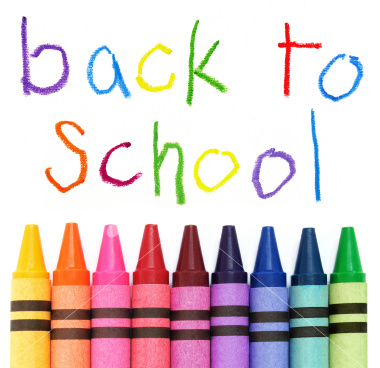 Can you believe that summer vacation is almost over? Are you ready for the first day of school? I think this time of the year is one of the most stressful times for any parent.
You have to buy school clothes and supplies, attend open houses at your child's school, and if your children are going to different schools than that's another open house to make it to.
Cleaning out closets getting rid of the clothes that are suddenly 2 sizes too small, to make room for the new ones.
There are the sports physicals and shot updates, trying to squeeze these appointments in before the deadlines and first day of school.
And that doesn't even count the groceries. You have to make sure you have the lunch box staples, like chips, snacks and juice boxes.
And then there are the classroom supplies…markers, pencils, hand sanitizer and box of tissues. Fortunately the teachers send out a classroom supply list so you can shop for these things weeks prior to the first day.
Oh and the battles of trying to get your children acclimated to the appropriate bedtime without tears resulting is a feat within itself.
Let's not forget about the bus schedules, you can either watch the Jacksonville Daily News for the list or you can go to The Onslow County Schools website.
We aren't even touching on the college freshman anxiety, with having to supply a dorm room and send your young adult off into the world.
Of course everyone wants to have that one last official farewell to summer by having a Labor Day blow out. So there is the shopping and cooking and cleaning that goes along with all that too.
But once the first week of school is back in session, it all falls into place and everything calms back down. Until Thanksgiving time…then we stress out again.
Exit Independence Realty is located in Jacksonville North Carolina and services the towns of Jacksonville, Hubert, Richlands, Holly Ridge, Maple Hill, Snead Ferry, Swansboro, and all of Onslow County. Camp Lejeune and our military families are our neighbors and we take care of them, call us with all of your real estate needs 910 347-6886.