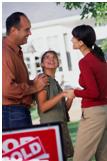 What are you looking for in a real estate agent?
If you are like most people, you want a real estate agent that fits your personality.
You don't want an overly aggressive agent if you are a mild mannered person. And you don't want a jokester if you're the serious type.
That's one of the reasons that I like the agents at Exit Independence Realty in Jacksonville, NC. You have a variety of agents to choose from.
Ellen Hough, has been selling real estate long enough to know all the ins and outs, she is very involved with the Jacksonville Board of Realtors and has served on several positions on the board in recent years. She is also the wife of a former Camp Lejeune Marine so she understands the stress that goes along with a cross country move with young children in tow.
Alexis Pierson, is the humanitarian, she likes to stay active in local charities and usually volunteers for one or two meaningful causes a year. Whether it be Habitat for Humanity, Relay for Life or adopting a family for Christmas, Alexis puts her heart in it, just as she does for her clients.
Christina Asbury, is an Accredited Land Consultant and isn't afraid to get her hands dirty to get the best deal for you. She is also a numbers girl and likes to give you all the information that you need to make a well thought out decision about your newly constructed home or how to price the your home to sell in today's market.
Tim Abbey, is a former Marine and has several years of experience as a property manager, so he can answer your questions on selling your home or renting it out.
And should you decide to rent your home or investment property, Lyn Bigelow's dedicated professionalism and years of property management experience will take the pressure of your property concerns off your hands.
Everyone at Exit Independence Realty in Jacksonville, NC believes in good old fashioned customer service and whomever you chose as your real estate agent in the company will give you their best, and strive to get you into a home that fits your needs, or to help you to sell the home that you're in.
Exit Independence Realty is located in Jacksonville North Carolina and services the towns of Jacksonville, Hubert, Richlands, Holly Ridge, Maple Hill, Snead Ferry, Swansboro, and all of Onslow County. Camp Lejeune and our military families are our neighbors and we take care of them, call us with all of your real estate needs 910 347-6886.